The mission of the Tin Mountain Conservation Center is "to promote an appreciation of the environment among children, families, and the community through hands-on programs in the schools, at camp, and in the community and to demonstrate responsible stewardship of natural resources through land protection, research, sustainable forestry, agriculture and energy."
The Nature Learning Center in Albany, NH boasts solar electric and solar thermal energy, local woods and craftsmanship, as well as many new environmental education programs. Many activities also are based at the 228-acre Tin Mountain Field Station in Jackson, NH. Tin Mountain owns and manages 1,200 acres of forest land in Conway, NH that is used for education, to demonstrate sustainable forest management, and to provide high-quality timber to local processing facilities.
Throughout the calendar school year, Tin Mountain provides environmental learning programs that are tailored to the individual curricula of participating schools. This sustained weekly contact with school children over the entire academic year is a unique feature of Tin Mountain's approach to environmental education.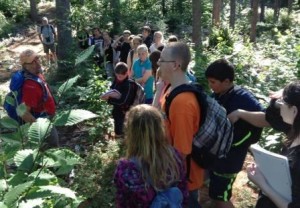 Every summer, Tin Mountain operates camps for ages 4 to 16 years in Fryeburg, ME, and Jackson, Albany, South Conway, and South Tamworth, NH. Younger children attend day camp while a variety of weeklong ventures to wild areas in northern New England are offered to older age groups. Nearly 300 local children and families benefit each year from summer programs.
For adults and families, Tin Mountain offers Community Nature Programs — a series of slide shows, hikes, lectures, and field trips sponsored by L.L. Bean and the Evenor Armington Foundation featuring local natural history experts and the region's spectacular natural areas. Community programs provide a diverse array of over 60 programs each year that promote an appreciation of the environment in children, adults, and families.